Farmonaut started in 2018 with a vision to bridge the technological gap between farmers and bring the latest state-of-the-art technologies in the hands of each and every farmer in the most cost-effective way. Farmonaut has been at the forefront of providing satellite data directly to the farmers through its award-winning developed android, iOS and web platforms and has monitored lakhs of hectares of farm lands nationally as well as internationally. Farmonaut has experience of working with and providing services to international corporates such as: Sunpalm Australia, Troforte Fertilizers Australia, Agro drones Israel, Grupo Los Grobo Argentina, Godrej Agrovet etc.
We majorly provide satellite based crop health monitoring services as well as field mapping services to farmers and business partners through our own platforms, API and website linking options, wherein, farmers/business partners can select fields on the Farmonaut platform (android, iOS or web app) and identify the regions of the fields at which the crop growth is not normal. This is done through satellite data. They can also integrate their existing platforms with our API to provide our satellite data to their existing user base. A Farmer can apply fertilizers, chemicals, insecticides, pesticides, plant growth regulators etc. only in those areas where the crop growth is not normal. Apart from this, farmers also receive vegetation water stress, evapotranspiration and soil organic carbon data as well every 3-5 days through satellites on top of the weather forecast data from the nearest weather station. We also have the capabilities to provide uninterrupted crop health satellite data even during cloudy weather through synthetic aperture radar (SAR) sensors.
Farmonaut has made geotagging farmer fields more streamlined and a faster process. Our interconnected app ecosystem facilitates our clients to map fields through our android app and monitor, manage, and access data of the mapped fields through our robust and advanced web-app. This interoperability is a game-changer for organizations that find it difficult to map and manage fields at a faster pace. On top of this field mapping, our advanced app ecosystem will provide the latest and continuous satellite data of all the mapped fields to the users to help them take farm-level actions well in advance.
In its current version, Farmonaut comes bundled with the following features.
SATELLITE BASED CROP HEALTH MONITORING
Farmers can select their field and identify the regions of the field at which the crop growth is not normal. Upon identifying that region of their fields, they can simply pay a visit to that part of the field and identify if the problem has already started. If it has not, the farmer can take preventive remedies by applying more fertilizers, plant growth regulators etc. If the problem has already started, they can simply explain their problem to Farmonaut's crop issue identification system and get real-time govt. approved remedies.
The satellite imagery is updated every 2-5 days and has a resolution of 10 meters which is 2 times better than google maps in rural India.
VOICE & TEXT BASED PLANT ISSUE IDENTIFICATION
Use our voice & text based plant issue identification system, powered by machine learning. In its first version, Farmonaut can detect 100+ crops and can identify 300+ different issues in the crop just by your voice explanation of the problem. Farmonaut not only identifies the issues, but also provides solutions approved by:
Government of India, Ministry of Agriculture & Farmers Welfare, Department of Agriculture, Cooperation & Farmers Welfare, Central Insecticide Board & Registration Committee, Directorate of Plant Protection, Quarantine & Storage.
However, we suggest you to consult your local authorities first if you are not located in India. The usage guidelines may be different for different countries
50 + SUPPORTED LANGUAGES
Language is not a barrier for Farmonaut as it supports more than 50 languages. You can select different languages for app, speech detection and translation.
FARMONAUT DATABASE
Farmonaut database is a result of rigorous research and contains details for 100+ crops, 300+ issues, and 150+ chemicals (pesticides, insecticides, plant growth regulators etc.). Farmonaut is capable of generating 5 Million + Remedies (50 lakh+) in its first version.
FARMONAUT FORUM
At times when Farmonaut detection system is unable to identify the issue, you can post your problem onto Farmonaut Forum. As the community grows, your issue will be resolved quickly! Farmonaut brings farmers around the world close as anyone can connect with anyone with no language barrier in place.
Farmonaut believes in adapting and improving with time. Your suggestions and feedback are highly valuable to Farmonaut as it will help building future versions of the app.
Development started with a predetermined set of features to be included in the beta version.
Beta release of the app with the following features:
Voice-Text Based Crop Issue Identification
Discussion Forum
Database (100+ Crops, 300+ Problems, 150+ Chemicals)
50+ Language Support for App, Speech and Translation
First Stable Release of the App with polished existing features as per the feedback from the farming community.
Satellite Based Crop Health Monitoring Service Released for farmers.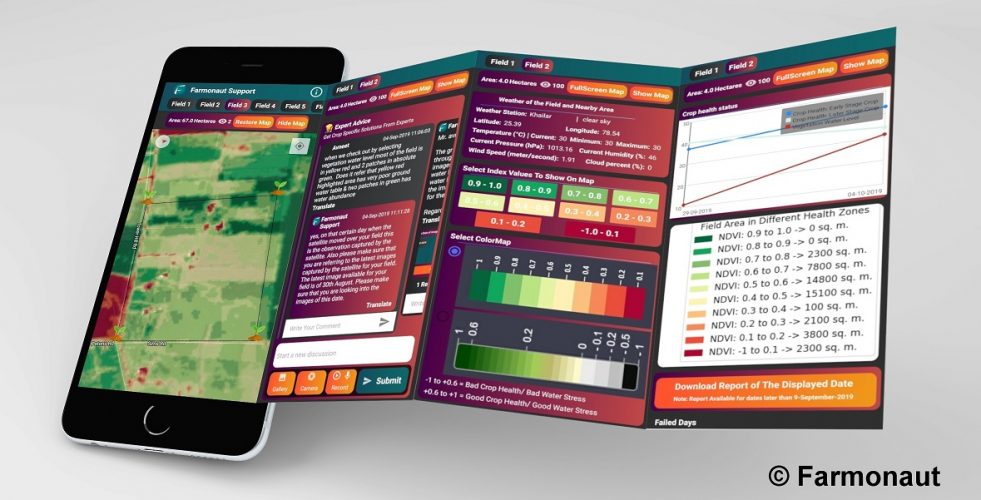 Automated Satellite Monitoring Service provides crop health status and vegetation water level results everytime satellite crosses the farmer's field.
First Version of the iOS App Launched.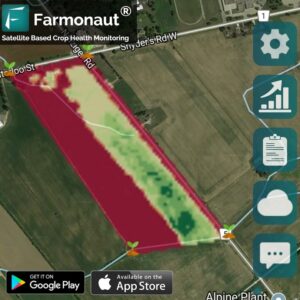 First version of the web app Launched