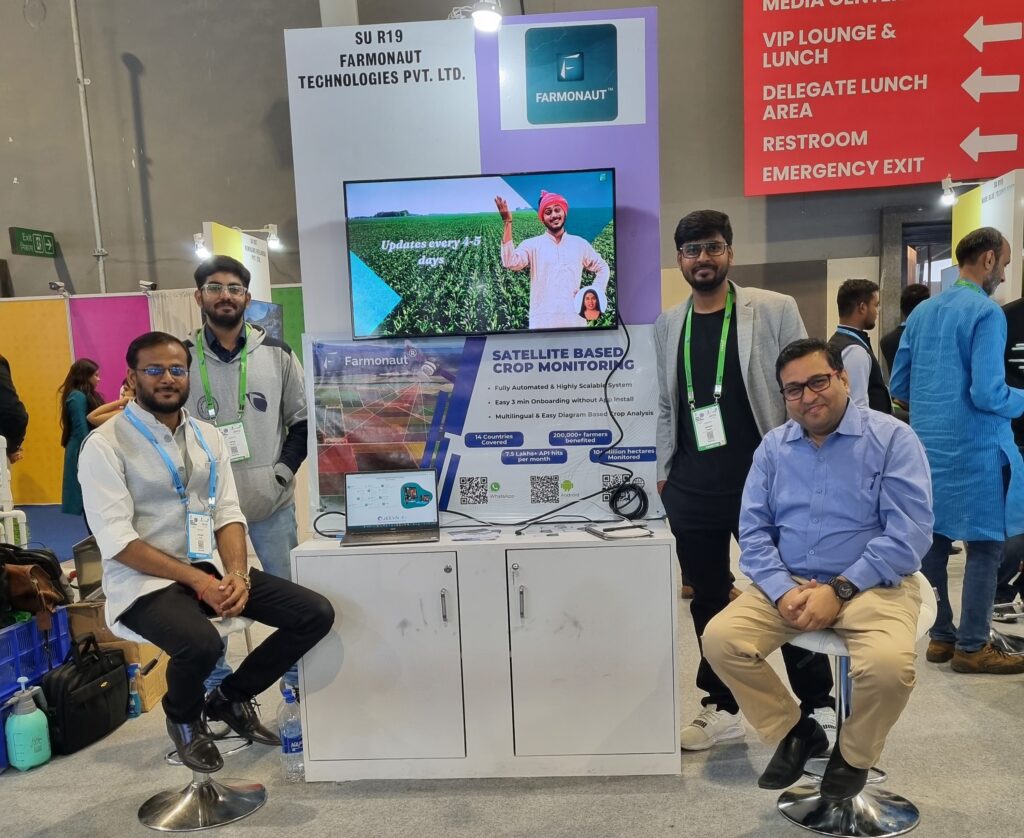 FARMONAUT SHINES AT IMC 2023
Farmonaut, a pioneer in agricultural technology, recently had the privilege of participating in the prestigious Indian Mobile Congress 2023 (IMC 2023) held at Pragati Maidan, New Delhi, from 27th to 29th October 2023. This event brought together the best and brightest minds in the mobile and technology industries, and it provided us with an incredible platform to showcase our innovative agricultural solutions.
IMC 2023: An Unmissable Event
The Indian Mobile Congress is the largest technology event in India, and this year's edition introduced a groundbreaking initiative called ASPIRE, dedicated to fostering innovation and expediting growth within the mobile industry. We, Farmonaut were delighted to be a part of this exciting journey toward innovation, especially within the context of agriculture technology.
The event was graced by esteemed thought leaders, including:
Shri Ashwini Vishnaw Ji, Hon'ble Minister for Railways, Communications, Electronics & Information Technology, Government of India.

Shri Devusinh Chauhan, Hon'ble Minister of State for Communications, Government of India

Dr. Neeraj Mittal (IAS), Chairman DCC & Secretary(T), DOT, Government of India

Mr. Mukesh Ambani, Chairman, Reliance Industries Limited

Mr. Sunil Bharti Mittal, Founder and Chairman, Bharti Enterprises

Mr. Kumar Manglam Birla, Chairman, Aditya Birla Group

 

 
The presence of these luminaries made IMC 2023 an unparalleled opportunity for networking, learning, and gaining inspiration from the best in the business.
We Farmonaut, as a startup dedicated to revolutionizing agriculture through technology, proudly presented our innovative products at IMC 2023. We were shortlisted for the 5G & Beyond Hackathon 2023, a testament to their commitment to pushing the boundaries of agricultural technology.
We were thrilled to share our vision for the future of agriculture technology at this esteemed event. Our mission is to empower farmers through the power of technology, making their lives easier and more efficient. We firmly believe that technology can revolutionize agriculture and help address some of the pressing challenges in the industry.
IMC 2023: An Experience to Remember
After participating in the 7th edition of India Mobile Congress 2023, Farmonaut expressed their excitement and gratitude for being part of this remarkable event. The event was hosted by the Department of Telecommunications (DoT) in association with the Cellular Operators Association of India (COAI). We, Farmonaut team showcased our cutting-edge agricultural solutions and innovations, all designed to make a significant impact on the lives of farmers.
ASPIRE, the innovative startup program within India Mobile Congress, provided us with a fantastic platform to demonstrate our products and connect with tech leaders from the industry. This opportunity allowed us to showcase our technology-driven solutions, network with industry experts, and further our mission of transforming agriculture.