Team Farmonaut® Embarks on G20 Conference
The G20, also known as the Group of Twenty, is an annual gathering that brings together the leaders and representatives of the world's major economies, including 19 countries and the European Union. This high-level forum serves as a platform for discussions and coordination on global economic issues, sustainable development, and international cooperation.
The highly anticipated G20 Conference was a momentous occasion, and Team Farmonaut was filled with eager anticipation. From the 3rd Agriculture Deputies Meeting to the Agriculture Ministers Meeting, the prestigious event took place at the magnificent Hyderabad International Convention Center. With the theme of "Vasudhaiv Kutumbakam" – translating to "One Earth, One Family, One Future" – the G20 Conference aimed to foster global cooperation in creating a sustainable agricultural ecosystem. 
Farmonaut® is thrilled to have been exhibited at the prestigious G20 Conference from 15th to 17th June (3rd Agriculture Deputies Meeting and Agriculture Ministers Meeting). The conference took place at the magnificent Hyderabad International Convention Center.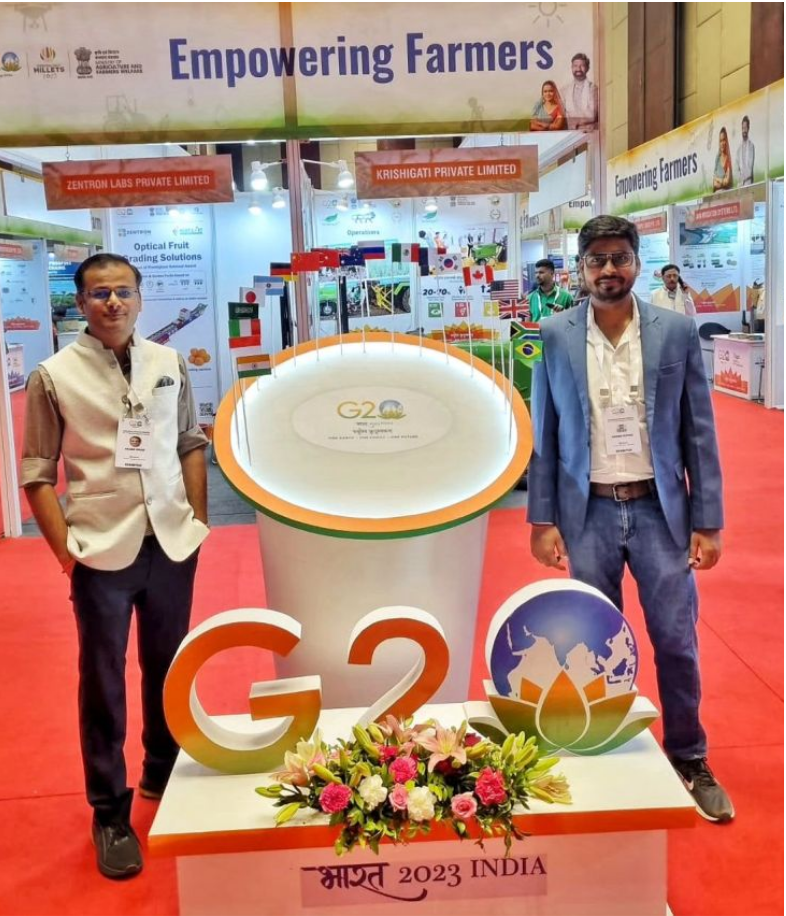 The recently concluded G20 Conference, held at the stunning Hyderabad International Convention Center, marked a monumental chapter in Team Farmonaut®'s journey. Interacting with global #AgricultureMinisters, distinguished experts, department heads, and model farmers from different corners of the world proved to be an enriching and inspiring experience. The conference's resonant theme, "Vasudhaiv Kutumbakam," beautifully aligned with Farmonaut's core philosophy of viewing our planet as one unified family.
Farmonaut's mission to revolutionize #CropHealthMonitoring was met with great enthusiasm at the G20 Conference. We sought like-minded partners who shared our passion for sustainable agriculture and cutting-edge technology. The event provided us with a remarkable opportunity to connect with individuals and organizations who recognized the transformative power of our innovative solutions. The genuine interest and engagement we received reaffirmed our belief in the power of collaboration to create a more resilient and productive agricultural sector.
DD News Interviewed Farmonaut at the G20 Conference:
One of the highlights of our time at the G20 Conference was the privilege of being interviewed by DD News. This esteemed opportunity allowed us to showcase our innovative solutions and shed light on the vital role that technology plays in optimizing crop health monitoring. As pioneers in the field, we firmly believe that the integration of satellite imagery and artificial intelligence has the potential to revolutionize agriculture, paving the way for a more sustainable and efficient future.
During the interview, we shared insights into our cutting-edge technology and its impact on the agricultural landscape. We emphasized how the fusion of satellite imagery and advanced algorithms enables farmers to make informed decisions, optimize resource allocation, and maximize crop yields. The interview provided us with a platform to demonstrate our commitment to empowering farmers with accurate and real-time crop health information, ensuring they are well-equipped to address the challenges posed by climate change and secure food security for future generations.
The Rising Journey of Farmonaut:
Farmonaut® continues to soar to new heights, leaving an indelible mark on the agricultural industry. Our unwavering dedication to providing farmers with accurate and real-time crop health information has garnered widespread recognition. Leveraging the power of satellite imagery, we empower farmers to make informed decisions, optimize resource allocation, and achieve maximum crop yields in a sustainable manner. Our cutting-edge technology has earned us the trust of farmers worldwide, solidifying our position as a trusted partner in their pursuit of agricultural excellence.
As we reflect on our journey, the G20 Conference served as a remarkable platform for Team Farmonaut® to showcase our commitment to revolutionizing crop health monitoring. The interviews and interactions at the conference have fueled our determination to make a positive impact on the world of agriculture. We are poised to continue our ascent, one step at a time, towards a greener, more prosperous future.
The G20 Conference was a defining moment for Farmonaut®, as we took bold strides towards revolutionizing crop health monitoring. Our participation in this prestigious event provided us with invaluable opportunities to connect with global leaders, experts, and farmers who share our vision for sustainable agriculture. As we move forward, we remain steadfast in our mission to create a sustainable agricultural ecosystem and support farmers with innovative solutions. The G20 Conference has invigorated our resolve to make a lasting and meaningful contribution to the agricultural landscape. Join us on this incredible journey as we rise, hand in hand, towards a greener and more prosperous future.