In this technology-driven world, an affordable and reliable traceability solution is unavoidable in all industrial sectors. Therefore, here we will look into the ways in which Farmonaut makes traceability solutions utterly transparent for the textile and fashion industry. We offer the technology in vogue built on blockchain hyperledger fabric, ensuring transparency across the entire supply chain. Optimizing RFID and NFC technology, our solution allows for seamless tracking of products from the farming stage to the CMT (Cut, Make, Trim) stage, as well as PCR testing for DNA identification. Our platform caters to B2B and B2C markets, with user-friendly apps for easy data input and product scanning. This enables businesses to efficiently manage data and track products while providing customers with complete transparency on their purchases.
The German-based clients specializing in cotton face the need to meticulously monitor data related to its cotton-sourcing operations. Farmonaut has provided multiple services to these German-based clients.
Blockchain-based traceability, ensures transparency and authenticity in supply chains, particularly in industries like textiles. Secondly, the IoT Devices and Dashboard. Installing IoT devices to collect data on weather, soil, and more, with a centralized dashboard for real-time monitoring. Further, the Drone Data Utilizes drones for agricultural and land management data collection. Satellite-Based Crop Monitoring and Crop Area Estimation utilizing satellite technology for precise crop monitoring and estimating crop areas.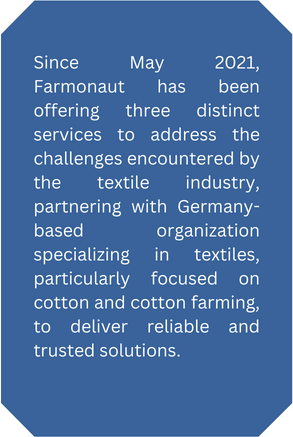 The collected data is transmitted at regular intervals, typically every 5 to 15 minutes, and is presented on a dashboard accessible to the German- based clients. Given the company's specialization in cotton, this data allows them to monitor various parameters throughout the cotton crop cycle and identify areas that may require special attention or intervention. By combining satellite and IoT data, precise insights are obtained, aiding in the improvement of cotton yield and productivity across different seasons. Furthermore, Farmonaut extends its support to trace the entire cotton supply chain for the beneficiaries . This blockchain-based traceability solution provides end-to-end traceability in the supply chain using a tamper-proof ledger. It is highly secure, scalable, and efficient, the solution ensures the integrity and confidentiality of data.
TIERS
,
involved in the process:
This supply chain encompasses multiple stages, from cotton procurement from farmers to the production of finished products. 
These stages include ginning, spinning to produce yarn, weaving, Cut Make Trim (CMT), sorting of finished garments, and warehousing or retailing with lot numbers assigned at each step. 
At each stage of this process, Farmonaut assists in capturing transportation details. When lots of cotton move through various stages, Farmonaut's system meticulously tracks them, recording origin points, intermediate stops, and final destinations. 
This traceability relies on blockchain technology, offering benefits such as flexibility, historical data tracking, and ensuring the authenticity of information. As a result, blockchain-based traceability helps detect fraudulent transactions, trace product origins, and address any discrepancies. This comprehensive system empowers the clients to maintain transparency, accountability, and efficiency throughout their cotton supply chain operations.
At each and every step of the process of making a particular garment the information is captured. The journey of Cotton from farm-to-finish product is stored in Farmonaut's platform.
Farmonaut is providing services to B2B & B2C. The platform for B2B can be accessed through Web App.
For B2C, the information can be accessed by scanning QR & RFID. It is available for consumers as App on Web, Android and IOS as well.

Check out this video by Farmonaut on the cost-effective blockchain-based traceability solutions for textile and fashion industry
In conclusion, Farmonaut's innovative solutions have proven to be a game-changer for Fashion for Biodiversity and the entire cotton industry. By seamlessly integrating satellite-based crop health monitoring and IoT devices, they've empowered the clients to navigate the complexities of cotton farming with precision and foresight. This technology not only aids in optimizing crop yield but also in ensuring the sustainability of cotton production, with a strong emphasis on biodiversity.