In the heartland of Andhra Pradesh, South India, where agriculture is not just an occupation but a way of life, Viswamatha Farms has emerged as a beacon of innovation and sustainable farming practices. This case study explores the remarkable journey of Viswamatha Farms and their pioneering use of Farmonaut's Satellite-Based Crop Health Monitoring System. We will delve into the challenges they faced, the innovative solution provided by Farmonaut, and the measurable improvements achieved through data-driven decision-making in modern agriculture.
Challenges faced by Viswamatha farms
Viswamatha Farms, a multifaceted farming operation, was not immune to the complexities and uncertainties of modern agriculture:
Unpredictable Weather Patterns:

The farm grappled with erratic weather patterns, including droughts and unseasonal rainfall, leading to volatile crop yields and health issues in their livestock.

Resource Optimization:

Efficiently managing critical resources such as water, fertilizers, and labor proved to be a daunting task, resulting in escalating costs and environmental concerns.

Pest and Disease Management:

Coping with persistent pest and disease challenges in crops and livestock posed a constant threat, often causing financial losses and product quality degradation.

Market Volatility:

Fluctuating commodity prices introduced further unpredictability into their operations, making long-term planning a challenging endeavor.
In September 2019, Viswamatha Farms embarked on a transformative journey by integrating Farmonaut's Satellite-Based Crop Health Monitoring System into their farming practices. This cutting-edge technology, accessible through user-friendly Android, iOS, and web applications, provided them with real-time insights into their crops and fields.
Data-Driven Decision-Making:

Farmonaut's platform empowered Viswamatha Farms with actionable satellite data, enabling them to make informed, data-driven decisions in response to weather patterns, crop health, and resource management.

Precision Agriculture:

By accurately identifying areas with poor crop health, the farm reduced chemical and fertilizer usage, leading to an impressive 15% reduction in expenses.

Resource Optimization:

The platform's data analytics tools helped optimize the use of critical resources such as water and labor, contributing to a 20% reduction in labor costs and a substantial 30% reduction in water wastage.

Market Insights:

Viswamatha Farms gained access to market insights, allowing them to time their product sales strategically and increase revenue by 10%.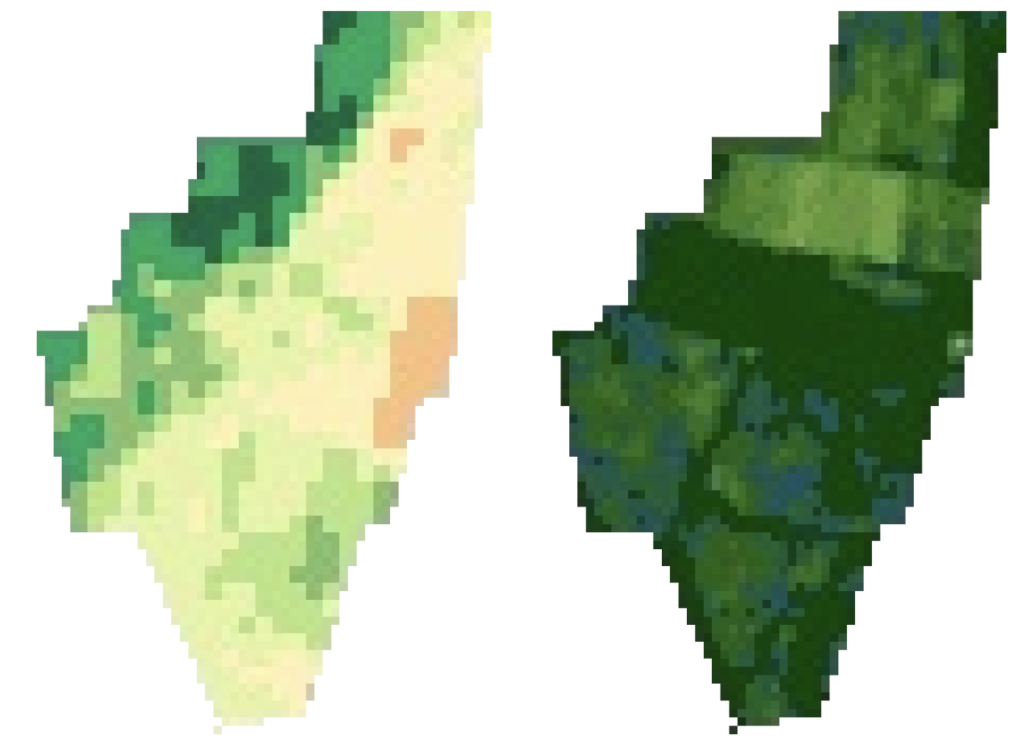 The image presented above illustrates the state of the farm prior to the acquisition of data-driven insights provided by Farmonaut, with no subsequent corrective actions taken. Significantly, the farm exhibits widespread issues related to poor crop health and severely degraded soil health in key areas.
The above depicted image portrays the post-intervention condition of the farm following the implementation of remedial measures based on insights offered by Farmonaut. Notably, the green color-coded regions signify a notable enhancement in both crop health and soil health across nearly all sections of the farm.
The integration of data-driven decisions into their farming practices resulted in a profound transformation:
Increased Crop Yields:

By optimizing resource usage and improving crop health, Viswamatha Farms achieved an average

15% increase in crop yields

across all major crops.

Cost Reduction:

Due to resource optimization and reduced pesticide use, the farm saw a

20% reduction in operational costs

.

Enhanced Sustainability:

The farm's reduced resource usage and pesticide application contributed to a

25% reduction in their environmental footprint

, aligning with their commitment to sustainable farming.