What it takes to be a farmer in India | A Farmer's Perspective | Rajendra Prasad
Rajendra Prasad is a 29 year old farmer from the state of Andhra Pradesh. He holds a degree in MBA and would have easily moved to the corporate sector, but his passion and love towards agriculture made him stick to farming to meet his family's livelihood. He has been farming for more than 15 years now starting as early as the age of 14. Ever since from his school in 9th standard, he used to attend school in the morning and used to dedicate his evening times to farming and vegetable marketing for his family.
He has been in touch with Farmonaut for many months, and has so many experiences to share with us from his time in the agriculture sector, whether good or bad.
One of the first issues which he faces is something so many farmers face by themselves every year. He has seen unpredictable change in the price of his produce from season to season. In some seasons, he gets unexpectedly high return on his produce whereas in some other seasons the prices go unexpectedly low.
He recalls from his own experience that with the latest technology which he has hands on, it takes around 2 lakh rupees to grow tomatoes in a region of 1 acre. From his tomato cultivation experience, he recalls that the income from the crop has gone down to as low as only 60 thousand rupees sometimes. In one another instance, he was able to get 3 lakh rupees in return by growing tomatoes in his field. 
Although he was able to make an on-paper profit of 50 thousand rupees, this profit went to cover the cost of labor and transportation. Thus, he made no profit in a complete season of growing tomatoes. There is one more similar incidence in which he recalls that almost 10 tonnes of his tomato produce got wasted due to so much low demand.
Apart from the season crops such as tomatoes, he also grows flowers on his field. To ensure a good return on his flower growing business, he grows flowers at times when there are so many marriages and festivals going on. By doing so, he is able to get good rates for his flowers due to an expected huge demand. However, in the current season, his tactic doesn't seem to be working out and the prices have fallen down so much sharply from 30 rupees per kg to 5 rupees per kg within a span of 10 days.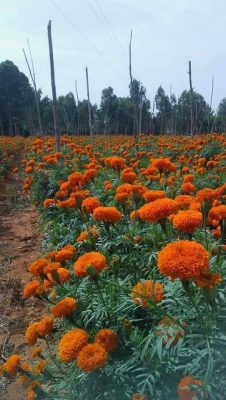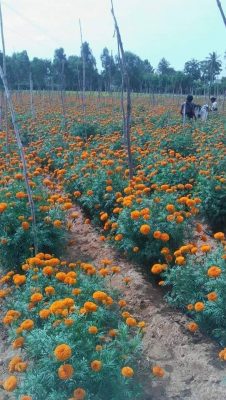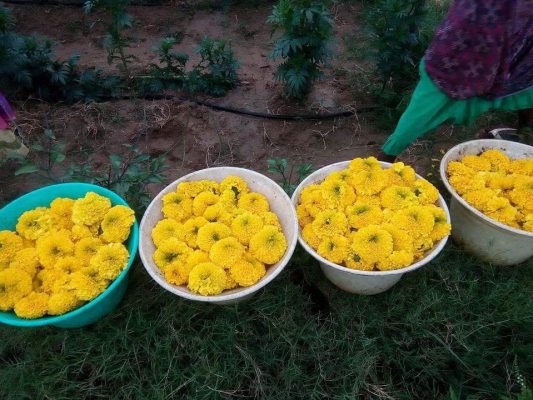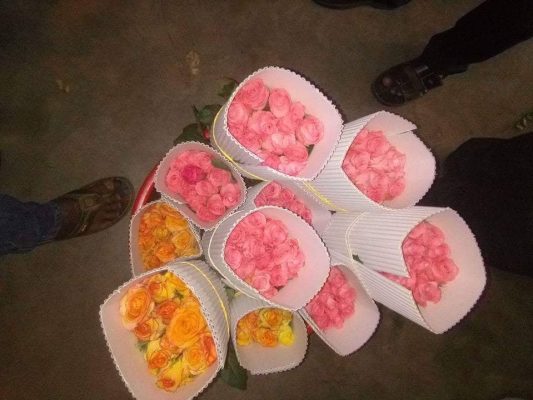 From his 15 years of farming experience, Rajendra has devised a very intuitive hypothesis for this unpredictable rate fluctuation. He says, that in a certain small region, farmers grow crops based on what was profitable in the previous season. For example, if in some region, the price of the brinjal crop goes higher for one season,  the farmers of that region, assuming the sure profitability of the respective crop sow the same crop. The problem is that this brute force method is used by most of the farmers. This mass following of relying on the price of the crops of the previous season, makes most of the farmers to grow the same crop which was hugely profitable in the last season. By doing this, farmers create a surplus supply with more or less the same demand for the crop which it used to be in the last season.
Rajendra wanted to have a way by which farmers can understand if they should be growing the same crop which was profitable in the last season or not. 
To answer this problem, Farmonaut has created a crop registration system. On the Farmonaut app, farmers can register a few important details about their currently sown crop. The farmer shares the details such as: 
Date on which the crop was sown,
the area of the plot on which this crop is grown, 
the name of the crop, and 
the location of the crop. 
By doing so, farmers broadcast this information in their nearby region about their existing sown crops. This information is displayed on the map depicting all the crops being grown in the nearby region of the farmer. Farmers can fine tune their strategies and decide which crop to grow in the current season. The system also has a validation step implemented into the app, wherein other farmers of the nearby region (in the radius of 50 km) can verify whether the crop registered on the app is credible or not. 
The system developed is in its early stage and will keep evolving with time with feedback from inspiring farmers such as Rajendra himself.